Stay Safe Without The Expense of a Brand New Lock
Get the peace of mind with protection and safety that a quality, well-made and properly installed lock brings without the cost of purchasing and installing a brand new unit when you re-key instead.
Re-keying uses your existing outer hardware and only replaces the inner parts. This means that your old keys will no longer work to open the lock, so any lost keys or copies will no longer be a worry. But,  the outside lock itself remains intact, which means it's like getting a brand new lock at a fraction of the price.
When Is Re-keying An Option?
Re-keying should always be your first step after moving into a new place. Other reasons for re-keying include when you have lost your keys, want to have one key to use on several door locks, when there has been break-ins reported or an attempted burglary, if you need to increase the security of your home, office, or business at a more affordable option than changing all of the locks. Additionally, if you have tenants who have moved out without returning their keys, have employees who have quit or been fired, there is an affordable option for you. If you have any reason for no longer having possession of the original keys but want to retain your existing, non-damaged and functioning hardware, re-keying is a secure option.
Keep The Non-Damaged, Sturdy Hardware
As long as your outer lock hardware is not damaged in any way, re-keying the lock may be the way to go at a more affordable option that provides high levels of security. A re-key service includes changing the pins inside the lock using special tools. The process is simple, but requires the knowledge and skill of an experienced technician. Each key has a unique series of pins inside, and by changing them you essentially have a brand new lock.
If your lock is in working condition, is not worn, and has not been damaged in a break-in attempt, you may qualify for re-keying. It is important that before replacing the inner workings of the lock that the outer hardware is in sturdy condition so as not to compromise your security.
Our qualified experts are available and ready to examine your locks to determine whether or not they are a candidate for re-keying which will save you time and money while providing you with the same peace of mind that a brand new lock installation would bring, in a more affordable fashion.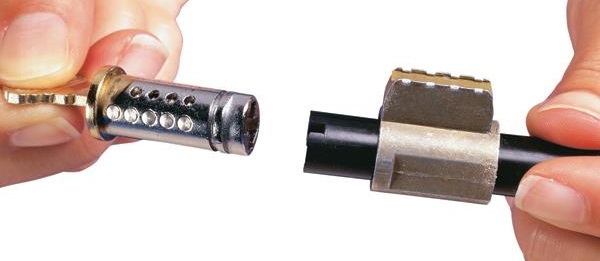 Call Us Without Delay!
Call Goodyear Locksmith 24 today to discuss re-keying your deadbolts, doorknobs, commercial locks, mailbox locks, master key systems, high security locks, garage door locks, gate locks, new home locks, or those on automobiles.
Our team of experienced locks and keys professionals provide you with fast, quality, and affordable service while maintaining the highest standards in the business. We are able to re-key all types of residential and commercial locks with efficiency and at a price that fits within your budget.